In the heart of the Middle East, an exciting transformation is happening that's reshaping how people work and collaborate. Co-working spaces are on the rise in this region, just like in other parts of the world, but with their own unique Middle Eastern flavour.
According to a 2021 research study from UK-headquartered business financial platform, Tide, available co-working space in the UAE currently equates to around 1.74 spaces for every 100,000 people. To put that into perspective, Switzerland leads the global pack with an impressive 2.50 spaces per 100,000, closely followed by Singapore at 2.32 and New Zealand at 2.18.
As per Statista's data, the global count of co-working spaces currently stands at over 18,700, with projections indicating a substantial increase to 41,975 spaces by 2024. This growth rate translates to an annual expansion of approximately 21.3 per cent.
While co-working spaces initially gained popularity among freelancers, entrepreneurs, and digital nomads, their appeal has broadened significantly. Beyond these early adopters, a diverse range of market segments is now embracing this alternative to traditional office setups, reflecting the widespread demand for flexible and collaborative work environments.
Inside Shaikh Rashid Tower Work Hub
Today, we take a closer look at Motif's latest design and build project: the Shaikh Rashid Tower Work Hub in Dubai World Trade Center. Spanning 4,500 square feet, the SRT Work Hub seamlessly combines vibrant aesthetics with functionality, creating a workspace across various workstations, diverse meeting rooms, cosy lounges, and an inviting reception area.
Design Philosophy: Form and Function in Harmony
At the core of SRT Workspace's design philosophy is the commitment to harmoniously blend aesthetics with functionality. This space fosters a dynamic and welcoming environment, catering to the diverse needs of its occupants while meeting the client's requirements.
Vibrant Aesthetics: Setting the Tone
One of the standout features of SRT Workspace is its vibrant colour palette. Bold and lively colours infuse the space with energy, setting a positive and motivated tone for the workday. Natural and artificial lighting further complement the design, ensuring a well-lit and inviting atmosphere. This combination of elements creates a dynamic and inspirational workplace.
Bringing Nature Indoors
Additionally, the Motif Interiors team has brought nature into the SRT workspace with various biophilic elements. Wooden panelling and a plant wall introduce a touch of nature, connecting occupants with the outdoors. This infusion of greenery not only adds to the aesthetic appeal but also promotes well-being, reducing stress and increasing productivity.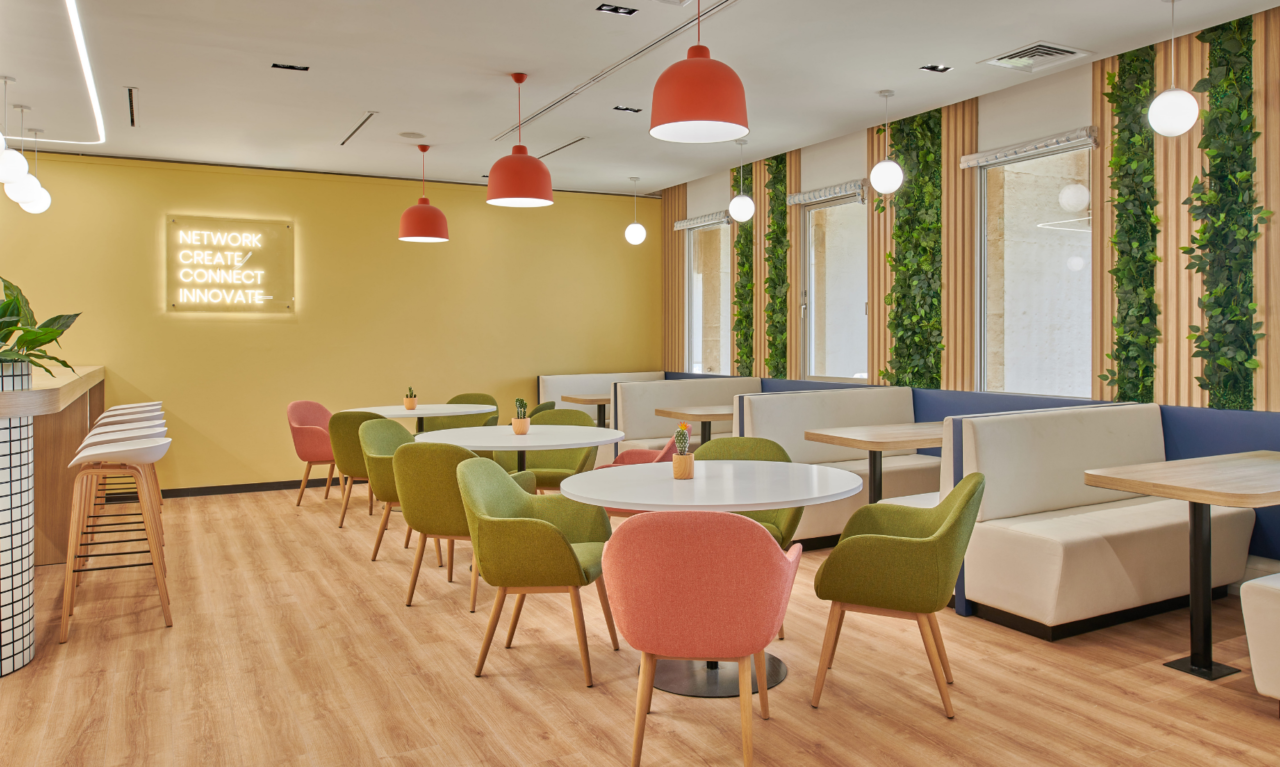 Versatile Seating Options
To further enhance the user experience, SRT Workspace offers a variety of seating options, ranging from standard open-plan areas to meeting pods and custom-made booths to high tables and lounge areas. This diversity allows for a "Plug & Play" approach, catering to the different preferences and needs of its occupants.