Motif Interiors gives contemporary office interiors to Symrise's new headquarters in Dubai's JLT
Honouring the brand guidelines and legacy of the global flavour and nutrition manufacturer, the design team delivered vibrant interiors that stir the senses.
Symrise, one of the largest manufacturers of flavour and nutrition globally, commissioned Motif Interiors to design and build its new regional headquarters. In less than three months, our design team managed to deliver an ergonomic and vibrant workspace. We also managed to maintain the corporate feel that honours the legacy of Symrise.
Symrise opened its first office in Dubai back in 2005. Following its expansion and growth in the Middle East, the management team wanted a modern, sophisticated regional headquarters. They also wanted to showcase their abilities as a leading flavour and nutrition solution provider.
The client approached our team due to our experience in large-scale workspace projects with global companies. They also appreciated our knowledge and understanding of the building's approval process and technical aspects.
Rita Estephan, design manager at Motif Interiors, comments: "Our team has executed numerous projects for global corporates. So, we took advantage of our past experiences and used them to give Symrise the design that's right for their business."
Client brief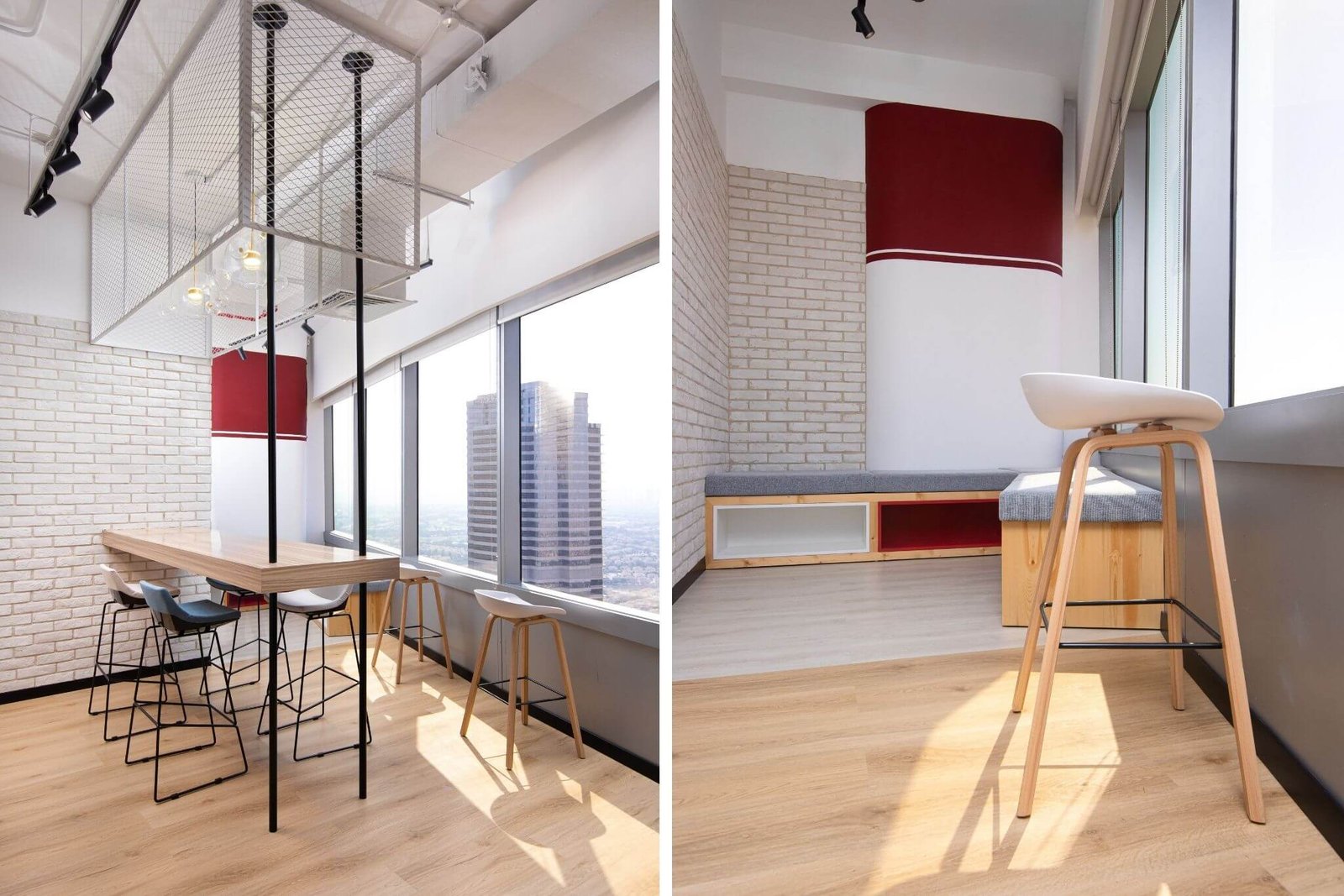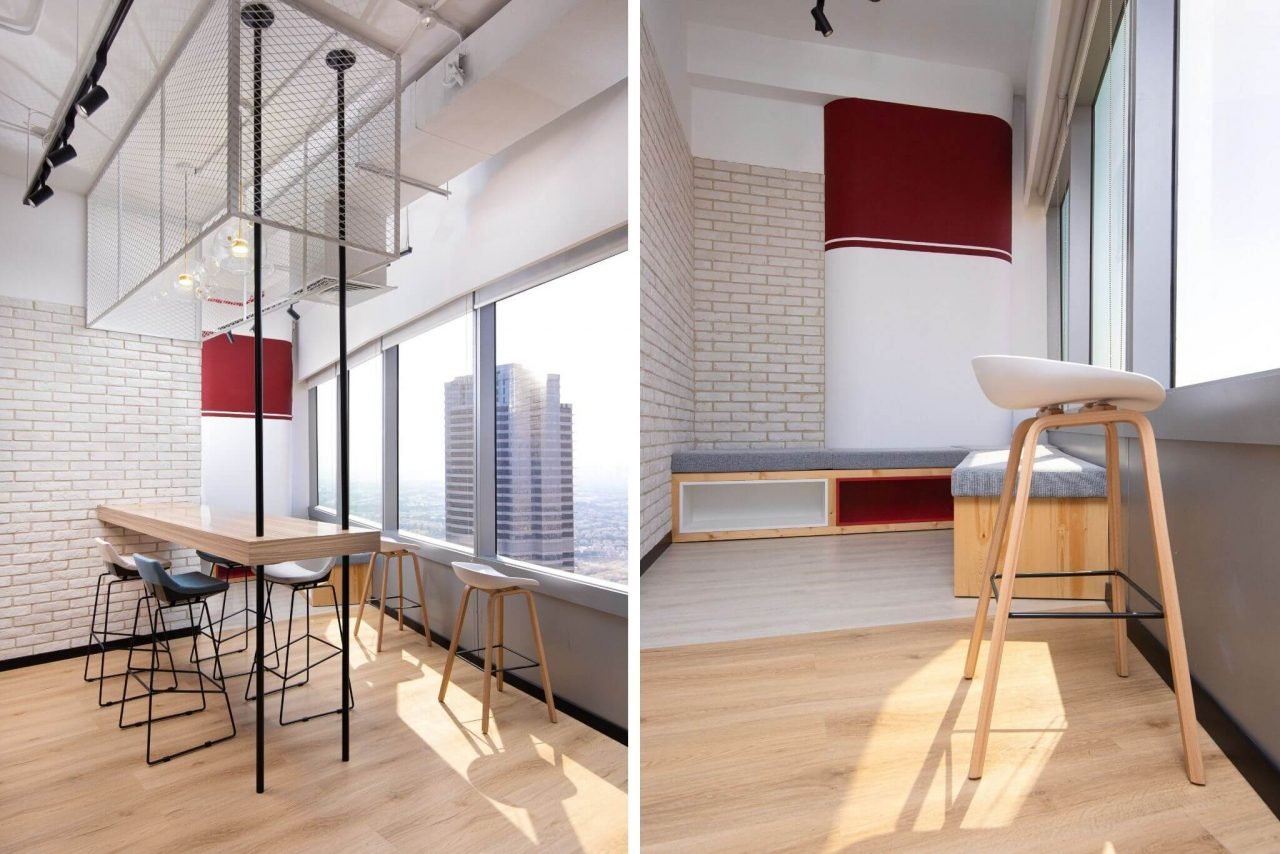 The initial client brief was that the overall design needs to reflect the strong corporate brand and tell the story of Symrise. We literally had to bring the world of flavour and nutrition to life.
Symrise partners and customers include large, multinational companies and leading regional and local manufacturers of food and beverages. Given the dynamics of their work, it was essential to avoid any business disruptions during the relocation. And, of course, to finish the project on time and within budget.
"Client wanted a workspace where staff will enjoy, feel happy and settle quickly. Our design team delivered a bright ergonomic office interiors with multiple collaboration areas and management offices" adds Rita.
Client testimonial
During the space planning phase, Motif's design team needed to create the right allocation between commercial office space and application kitchen areas.
Laura O'Connell, marketing manager at Symrise, comments: "It was a great experience, and Motif Interiors were an enjoyable team to work with. We are thrilled with the final result."
Office interiors walk-through
An administration wing consists of multiple office spaces for their accounting and finance teams, human resources and managing director offices. 
With a strong focus on ergonomics and employee wellbeing, Rita and her team intentionally placed the main sales and marketing area next to the high windows. This allowed additional natural light to flood the open-plan space. An informal meeting area with a high table and stools takes the central position in the space. Here, Symrise employees can have quick informal meetings while also serving as temporary hot desks.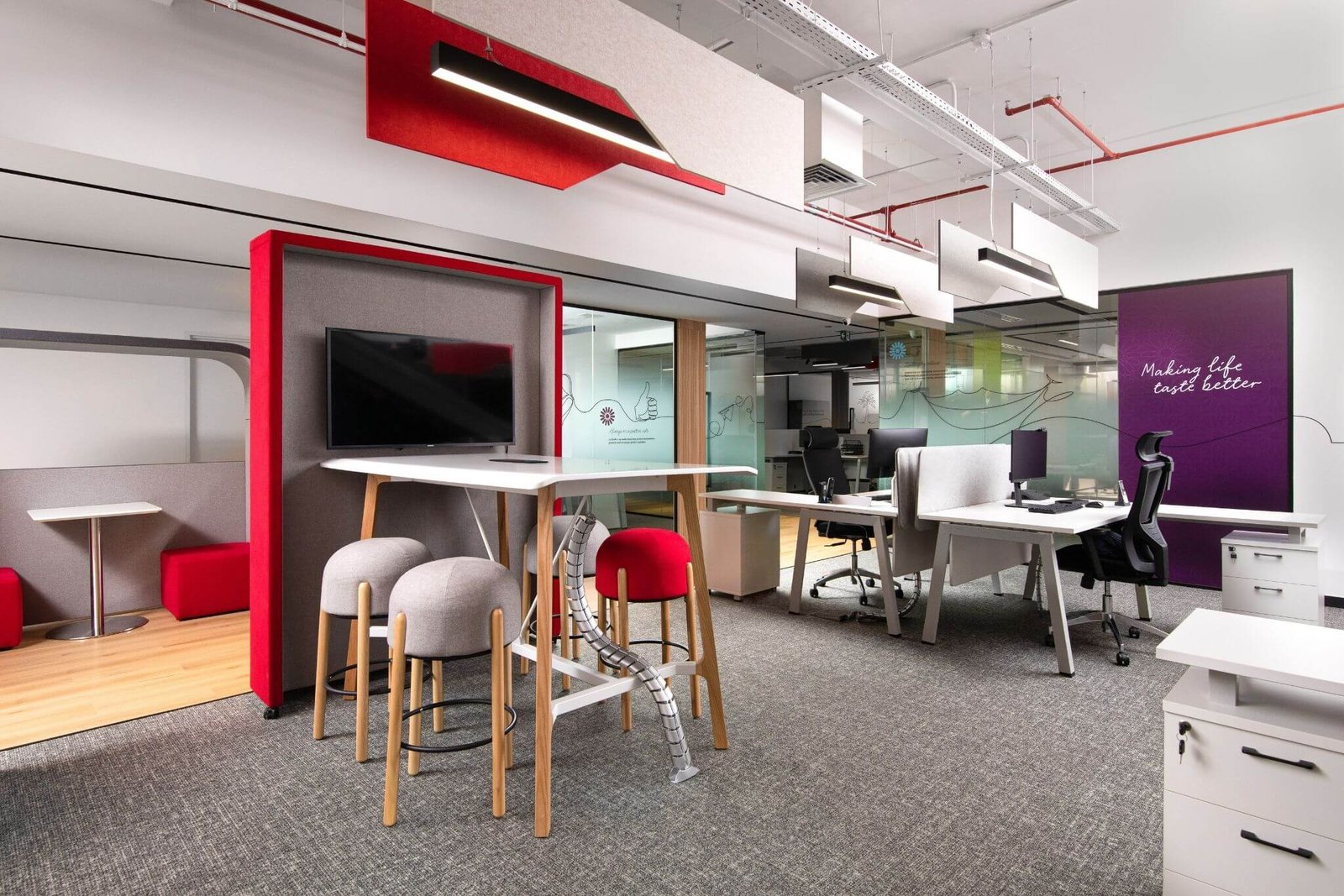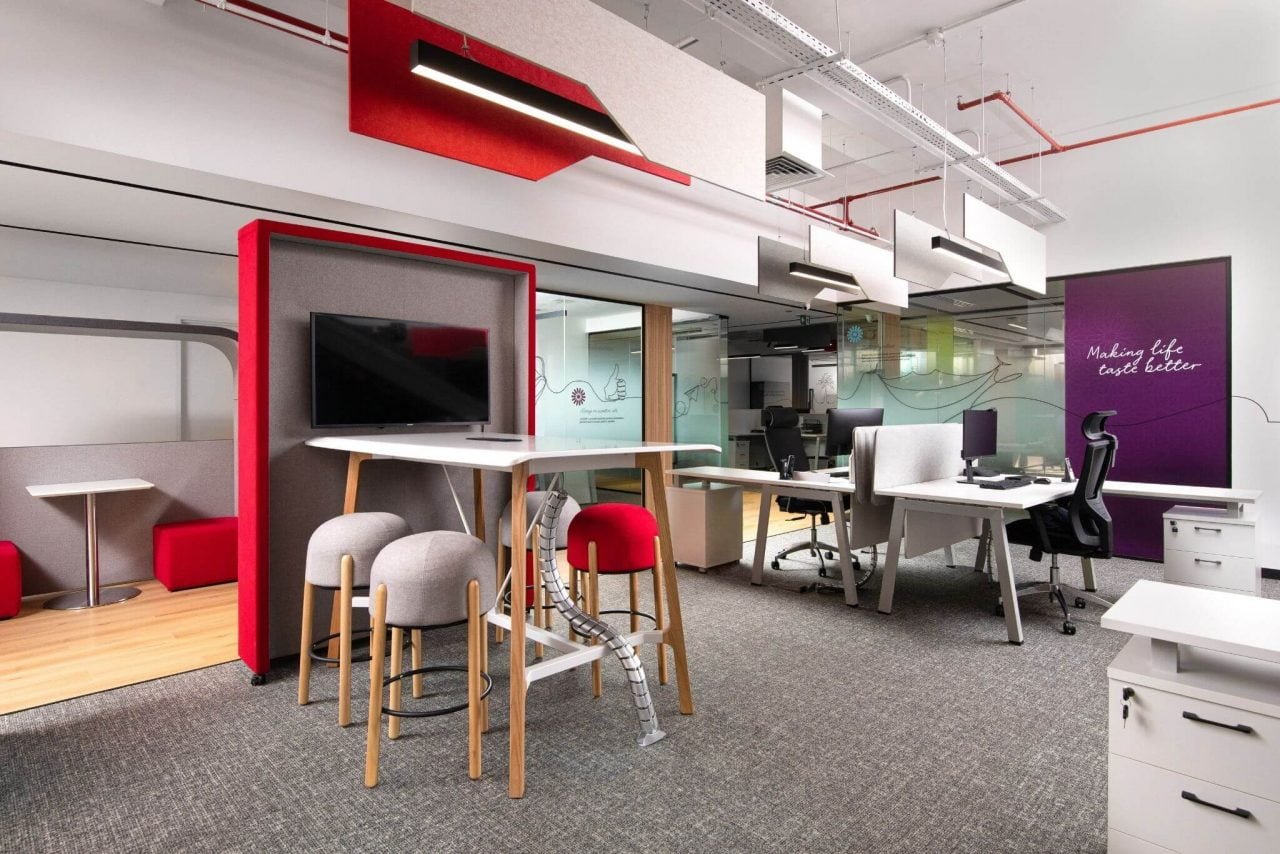 A client-facing zone
It comprises a large reception area and two meeting rooms. The reception counter features the Symrise logo in red colour is visible right from the lift lobby. This gives instant brand recognition to visitors. We chose high-end finishes and lighting, combining natural and engineered materials. The contrast of warm and cool shades matches the Symrise branding colours.

Two meeting rooms are next to the reception and separated by a foldable partition. The main boardroom is designed to host high-level client representatives from global blue-chip companies. At the same time, the smaller room is suitable for presentations, tasting sessions, town hall meetings and interviews.
Creative zone
A creative centre consists of office space for the team, sensory space and application kitchens for all food categories, allowing Symrise teams to offer an immersive experience to their clients and showcase their products and services.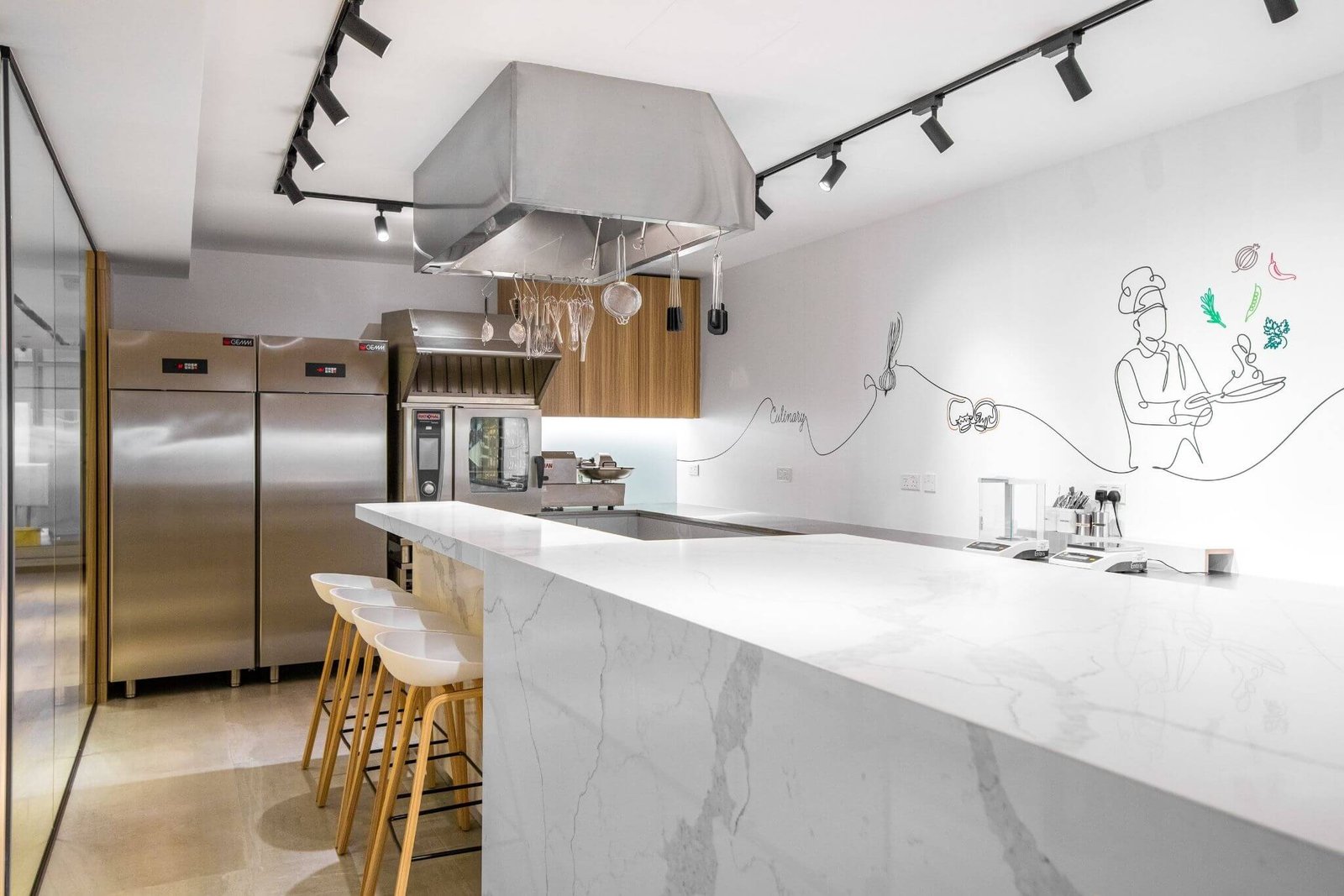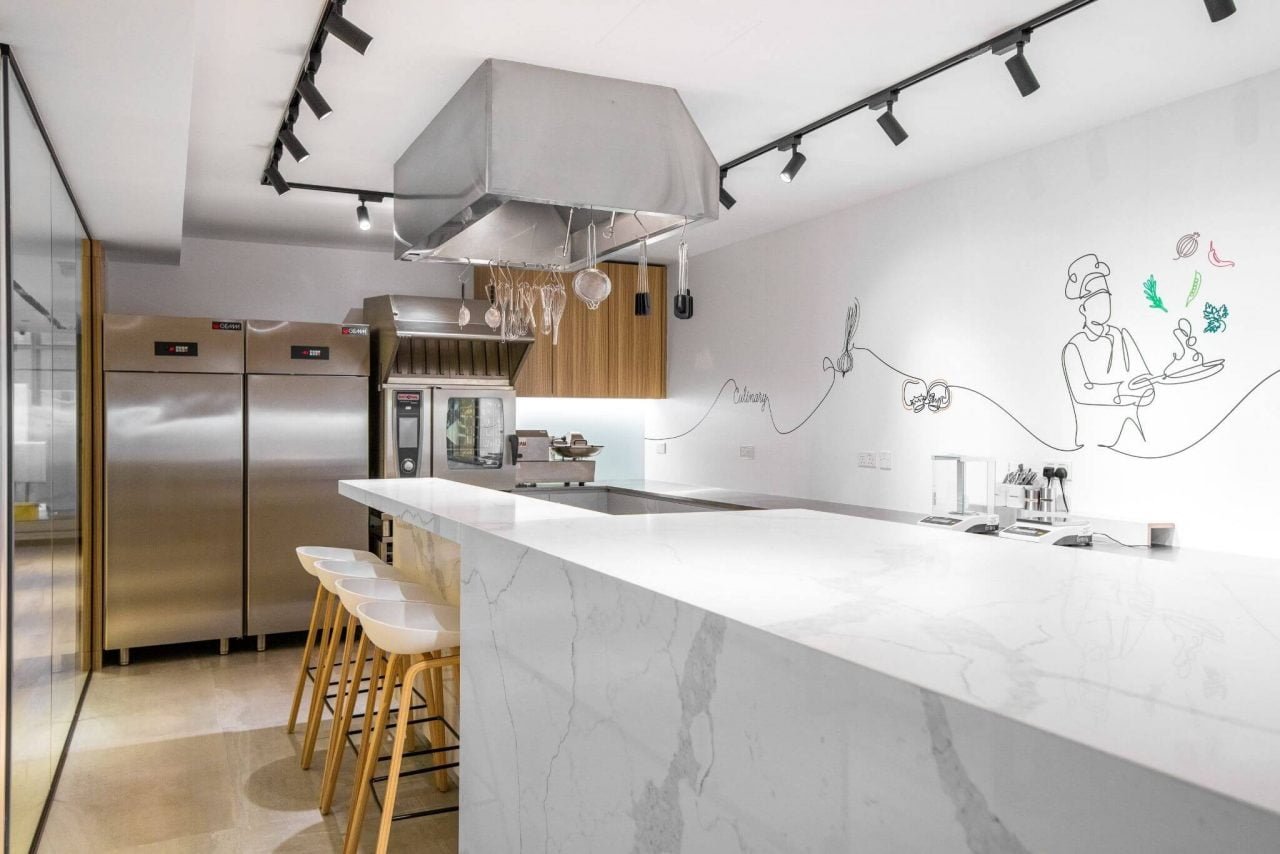 The culinary show kitchen has been identified as a key area to enhance the client experience. It is fully equipped as per the highest hygienic and safety standards, catering to all types of culinary applications, demonstrations and tasting.
With direct access to the terrace overlooking Dubai's Jumeirah Lakes Towers, the staff pantry features a more relaxed informal bench, lounge and bar seating to encourage staff collaboration. Comfortable bench seating with a TV in the window area can also be used as a breakout space or a brainstorming area.