The Opus building in Dubai's Business Bay is a stunning architectural masterpiece designed by Zaha Hadid. This iconic building is home to many high-end luxury brands and businesses, including M&M Real Estate, whose 3,000-square-foot office showcases a luxury office design.
Motif Interiors, known for its expertise in luxury office design, created the interiors in just 60 days. The curvy and organic design of the office, inspired by the building's unique shape, is complemented by a sophisticated colour scheme of neutral dark brown leathers against white Carara marble, brushed gold inlays, and wall panels.
Organic shapes and neutral shades
First impressions are crucial in the luxury real estate market, and M&M Real Estate's office in The Opus Building makes a lasting one. The sophisticated colour scheme of neutral dark brown leathers against white Carara marble and brushed gold inlays, and wall panels exude elegance and luxury. The unique design of the office's interiors is perfect for showcasing the high-end properties that M&M Real Estate offers to its clients.
Motif Interiors' quick turnaround time on the project is a testament to our design and projects teams' expertise in creating stunning interiors for luxury spaces. "We are proud to have been part of such a prestigious project and were able to achieve the desired luxury office design in record time," said Rita Estephan, Chief Operating Officer at Motif Interiors.
"The custom-made furniture and joinery ensure that every aspect of the office's design is unique and tailor-made to M&M Real Estate's needs. The overall result is an office space that is as functional as it is visually appealing," explains Rita.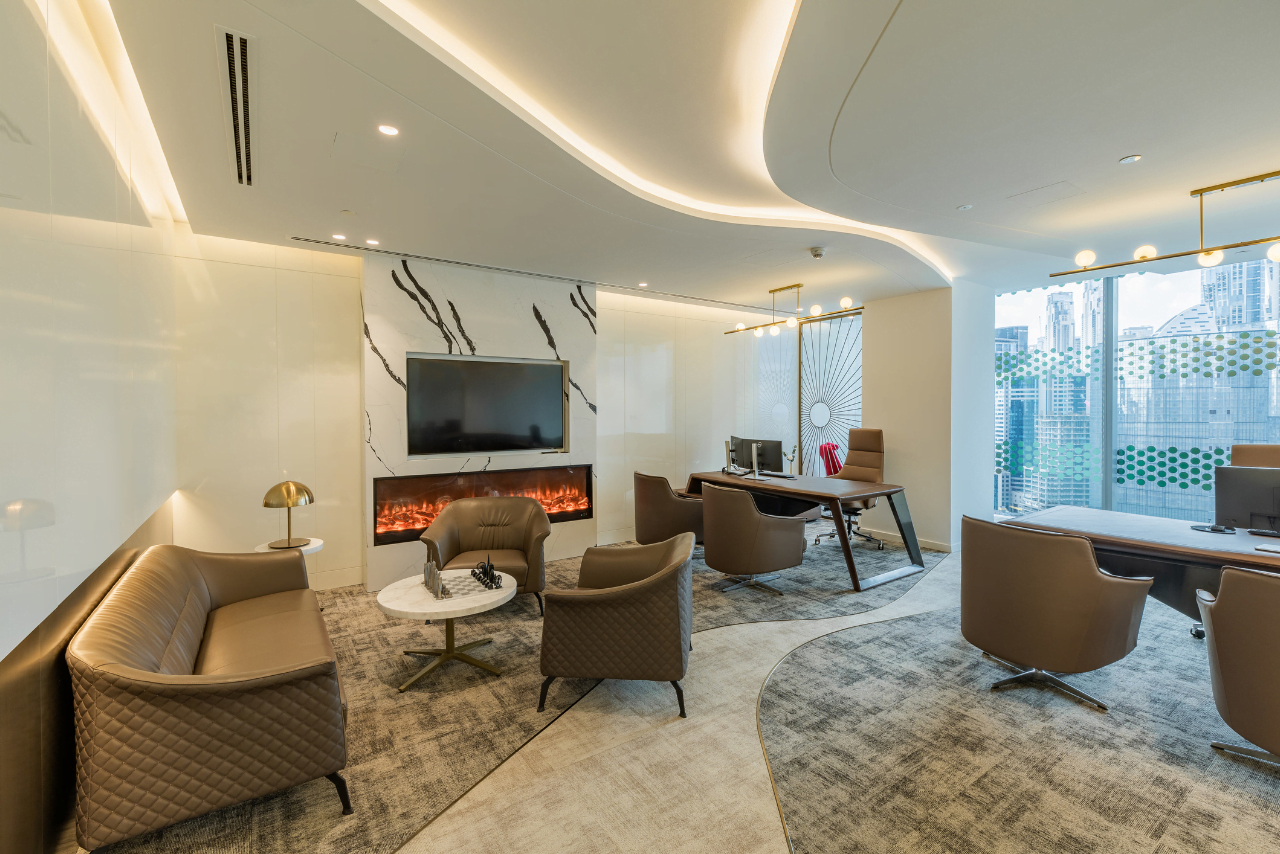 Design walkthrough
M&M Real Estate's office embodies a sense of luxury and sophistication as soon as a client enters. It is designed carefully to leave a lasting impression on anyone who visits, as a reflection of the high-end services the company provides.
As soon as clients step into the M&M Real Estate office, they are welcomed by an impressive reception area that showcases the company's attention to detail and sophistication. The centrepiece of the space is a custom-built high-gloss reception counter that features the company's logo in brushed gold, complemented by a stunning interplay of high-gloss white panels and brushed gold inlays on the wall behind it. "The reception area serves as the focal point of the entire office, and it was important for us to create an inviting and luxurious atmosphere that reflects the company's brand and values," said Rita.
The design is further enhanced by two custom-made lounge sofas upholstered in dark red, featuring curvy and organic shapes inspired by the works of Zaha Hadid. "The lounge sofas were designed to add a touch of elegance and comfort to the reception area. We wanted to create a space that feels welcoming and luxurious at the same time," added Rita. To add to the overall design, there is also a built-in aquarium that functions not only as a decorative element but also as a divider between the main reception and the staff cafeteria.
Above, the ceiling follows the organic flow of the curvy shapes seen in the architecture of the building, creating a sense of continuity throughout the space. This curvy ceiling design is also replicated in the flowing patterns of the carpets, which combine two different designs seamlessly and elegantly. "The ceiling design and flowing carpet patterns were essential in creating a sense of fluidity and movement throughout the space. We wanted to create a cohesive and visually appealing design that captures the essence of the building's architecture," explained Rita.
Adjacent to the reception area is the main meeting room for 10 people, which features dark leather executive chairs and a white rectangular meeting table. The management office, shared by the two owners, is also located in this area and is furnished with elegant lounge furniture and a sophisticated fireplace.
To the right of the reception area is the open-plan work area, designed to maximise exposure to natural daylight. The workstations are arranged in a functional yet stylish manner to promote productivity and efficiency.
The staff cafeteria is a small but functional space that offers different seating options, including an organic bar counter with high chairs.
Every aspect of M&M Real Estate's office in The Opus Building is carefully considered. The curvy ceiling design and flowing carpet patterns combine to create a sense of fluidity and movement throughout the space, contributing to an overall impression of sophistication and luxury.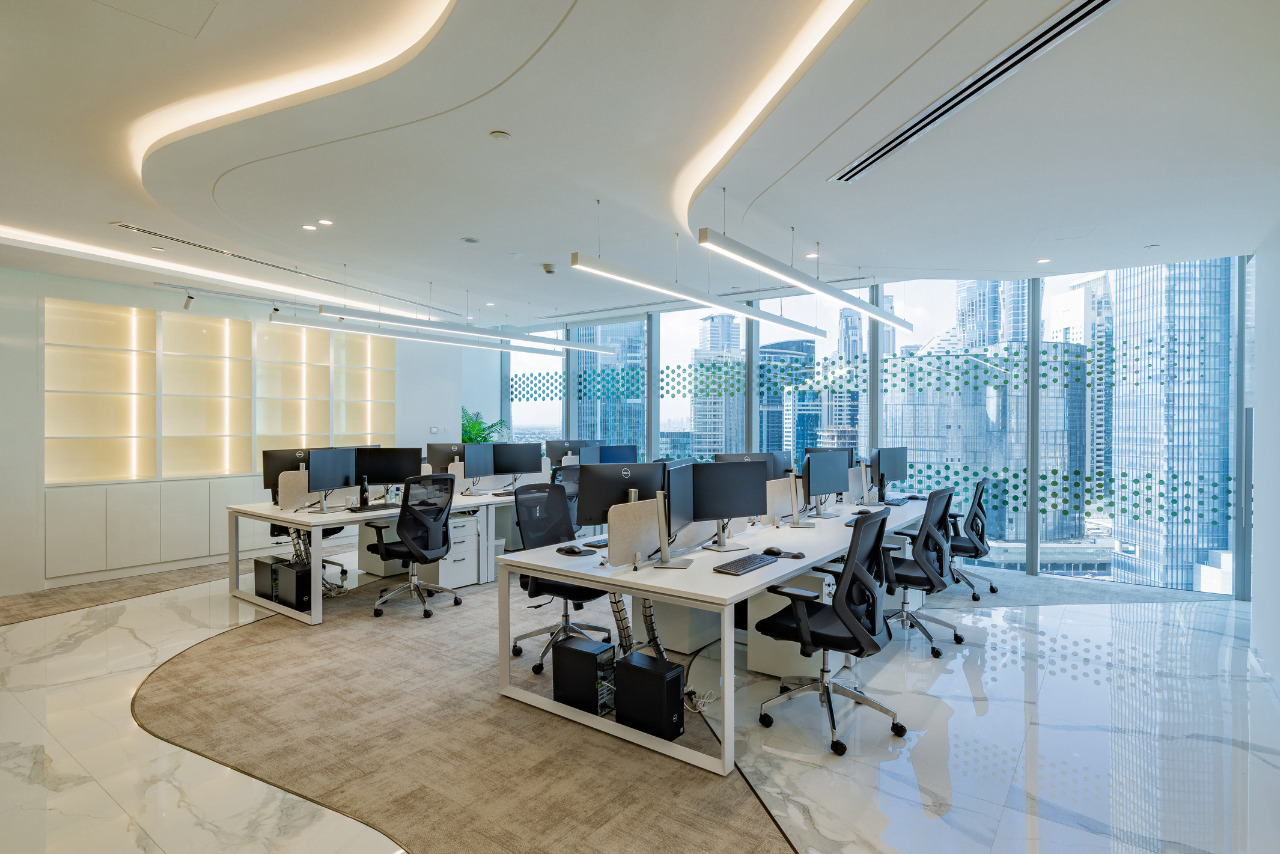 This exceptional design and attention to detail make a lasting impression on clients, leaving them with the feeling that they have engaged with a company that is truly committed to delivering the highest level of service in the luxury real estate market.
……
About Motif Interiors: 
The Motif Interiors team designs and builds innovative and sustainable workspace designs that are just as attractive as they are functional. With over 800 completed projects in the UAE market in 11 years, the team still remains focused on the same vision – creating better spaces for a client's business.
Motif Interiors recently moved into an office design brand new 12,000 sqft office in Jumeirah Lakes Towers (JLT). The recently completed projects include the new offices and recording studios for Augustus Media and Lovin Dubai; Dr Sulaiman Habib Hospital in DHCC, which spans 68,000 sqft and was built in just four months; a 30,000 sqft office for a global marketing company in Dubai Internet City; Pupil of Fate car showroom; a 10,000 sqft office for Brooge Energy in Opus Tower; the KFC/YUM group head office completed in Dubai Media City; the Business Hub of the Chamber of Commerce and Industry of Serbia; along with several ongoing projects in DIFC. Motif Interiors started 12 new projects in the iconic Uptown Tower.