It's time to upgrade your workplace. But you need to make sure the fit-out partner is the right one for your company. Here are 10 questions to ask before designing or renovating your office to ensure a successful outcome with your chosen fit-out company in Dubai
You need to hire a company that not only has in-house capabilities, proven track record and project portfolio but also understands your business and objectives.
We've listed below 10 questions you should ask before hiring a contractor.
1. How long have you been in business and how many projects have you completed?
The longer the better is the answer. Experience in the industry makes it easier to overcome issues, and with experience comes knowledge of budgets and timeframes. For example, at Motif, we have 10 years of experience and have completed more than 800 projects across various sectors, with workspaces being our core competence.
2.
Have you worked on projects which have similarities to my ideas and can you show me some examples of your work?
This is a key as you need to have someone alongside you who has worked on projects which will have thrown up challenges they are likely to face when working with you. Our five experienced project managers can show you what their areas of expertise are. Maybe you can meet them at our 12,000ft2 Dubai office, which also acts as a showcase for our work.
3.
Are you licensed and aware of relevant current regulations?
A fit-out partner must have the proper certification in order to be allowed to work on the site. Safety training and insurance are also essential. Not only does this protect you from poor workmanship, but it also ensures the safety of the contractors. In addition, you will get the best possible office delivered to global standards if you have an in-house team handling all authority approvals, from construction to completion.
4.
What is your reputation within the market?
In specialist fields, such as interior design and office design and refurbishments, reputations are important. Word of mouth is one of the best recommendations going within a tightly knit industry. As an example, at Motif, we have between 25 and 30 percent repeat business. Motif Interiors has also been recognised among the top fit-out companies in the UAE.
5.
How can I assess the quality of your suppliers and products?
If possible this should be done in person, rather than via a catalogue. That way you can see exactly what it is that any potential partner is offering. At Motif, we have 20,000ft2 joinery for all our glass, metal and woodwork which is maintained to the highest safety standards. We also have a 10,000ft2 furniture warehouse which showcases top brands from Europe and Asia.
6.
What are your staffing levels?
The bigger the firm, the more experience will be present among its staff. You need to balance this with the amount of individual care and attention you need – obviously the more the better. As an exam[ple at Motif our project managers work with you throughout a project's lifespan while our 10 experienced interior designers have a wide experience in creating stunning spaces across all areas of the sector. All of our 350 staff members have their own specialities within the field and will share them with you.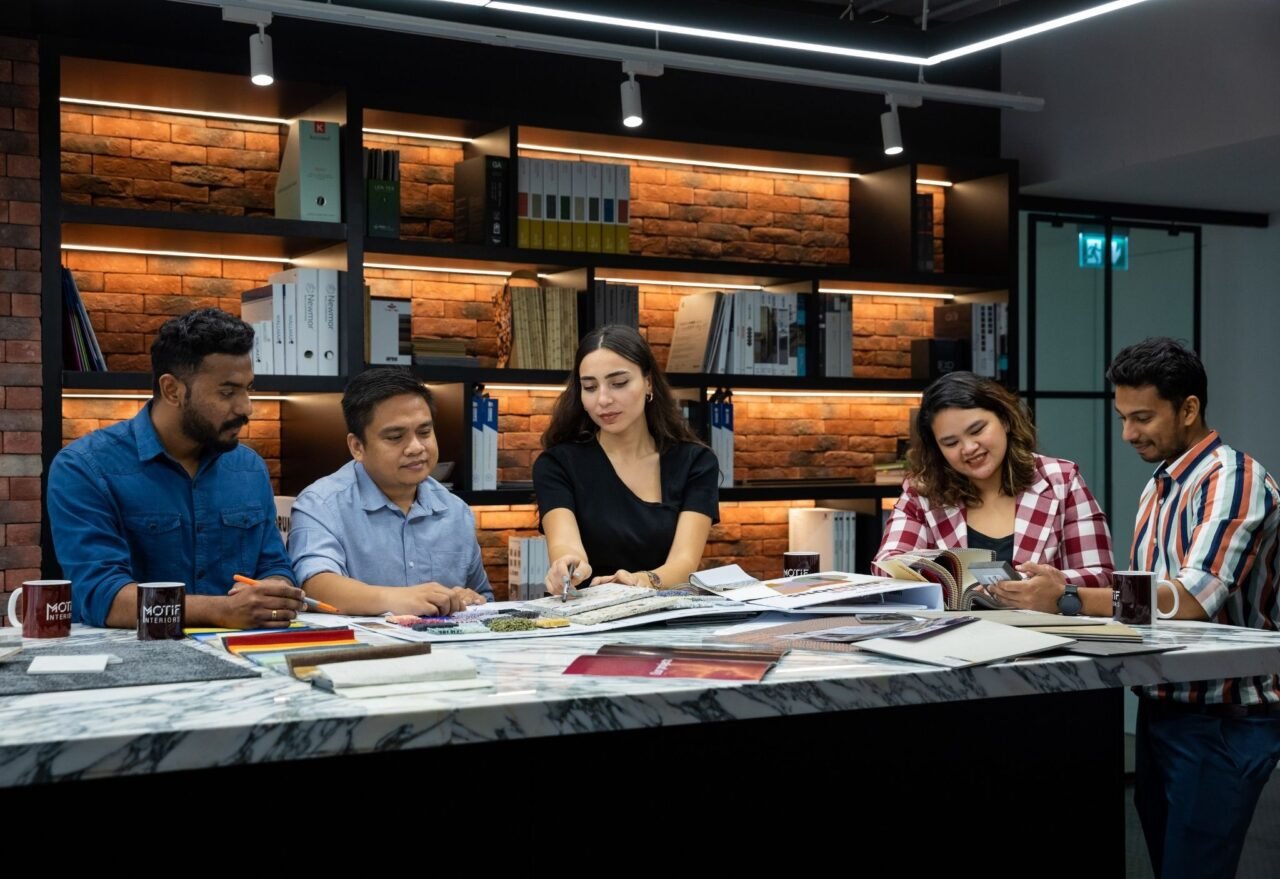 7.
How long will the process take and what is the payment schedule?
These need to be established very early on during the project. You need to ensure the contract commits to a mutually agreed delivery date and what it is you will be paying and when. Don't pay all the costs up-front and take note of any company which leaves off the final amount. Not only is this unprofessional, but they might also try and undercut their original quote. A down payment, progress payments and final settlement is the best way forward, with penalties if work is not completed according to the schedule. Also, ensure project costs are fixed and not estimates. Estimated costs can easily overrun making a project's costs go over budget very quickly.
8.
Can you provide references and what is your financial standing?
Written testimonies, preferably on projects similar to yours, can go a long way towards establishing a company's legitimacy. As repeat business is a major revenue stream for us at Motif this is something we pride ourselves on and we are happy to state that our assets currently total around $11 million.
9.
What is your health and safety record?
Companies that are effective in this field will be quick to demonstrate it. Construction is a sector where safety is vitally important, so the issue needs to be addressed. Also, it might be worthwhile asking about any potential partner's legal record. Do they get sued on a regular basis?
10.
What is your current schedule?
Make sure they have the right amount of time to devote to your project. There is no point in them saying they can start in six months when you want to have your new office operational by then. So a breakdown of their commitment over a selected timespan will see if they can meet your timeline with the proper level of commitment and dedication.
And when it's all over – it will be time to celebrate by showing off your new office to clients, suppliers and peers. And we at Motif are sure your contractor will want to be on hand to show their work to the rest of the industry.